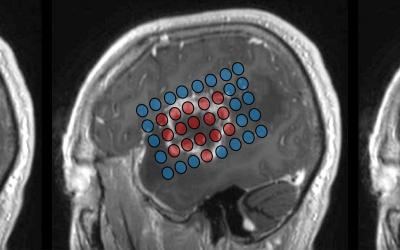 Cognitive Disruption and Recovery in Adult Intrinsic Brain Tumors
It is increasingly understood that patients with WHO II-III gliomas have extended disease-free survival periods.
However, language and cognitive dysfunctions are  primary contributors to impaired quality of life, which results in compromised social and professional interactions. The natural history of low and high grade gliomas has been well characterized based on molecular subclassification. However it remains poorly understood how longitudinal cognitive domain are impacted by oncological therapies and tumor progression. To better understand the progression we are employing longitudinal testing of language and cognitive tasks across a glioma patient population. Specifically, we seek to understand (1) whether cognitive decline results in shorter survival, and (2) whether cognitive decline occurs independent of tumor progression. These studies will not only offer a clearer view of the natural history of cognition throughout the course of disease but will offer greater insight into the optimal timing of cognitive rehabilitation interventions. These experiments are conducted in collaboration between our laboratory and clinical neuro-psychology, neuro-oncology radiation oncology, physical therapy, and allied health.
Related Publications
Miklja Z, Gabel N, Altshuler D, Wang L, Hervey-Jumper SL, Smith S. Exercise improves health-related quality of life sleep and fatigue domains in adult high- and low-grade glioma patients. Support Care Cancer. 2021 Sep 16. doi: 10.1007/s00520-021-06566-2. Epub ahead of print. PMID: 34532753.
Krishna S, Kakaizada S, Almeida N, Brang D, Hervey-Jumper S. Central Nervous System Plasticity Influences Language and Cognitive Recovery in Adult Glioma. Neurosurgery. 2021 Sep 15;89(4):539-548. doi: 10.1093/neuros/nyaa456. PMID: 33476391; PMCID: PMC8440067.
Hervey-Jumper SL, Monje M. Unravelling the Mechanisms of Cancer-Related Cognitive Dysfunction in Non-Central Nervous System Cancer. JAMA Oncol. 2021 Sep 1;7(9):1311-1312. doi: 10.1001/jamaoncol.2021.1900. PMID: 34196691.
Morshed RA, Young JS, Kroliczek AA, Berger MS, Brang D, Hervey-Jumper SL. A Neurosurgeon's Guide to Cognitive Dysfunction in Adult Glioma. Neurosurgery. 2021 Jun 15;89(1):1-10. doi: 10.1093/neuros/nyaa400. PMID: 33289504
Aabedi AA, Kakaizada S, Young JS, Ahn E, Weissman DH, Berger MS, Brang D, Hervey-Jumper SL. Balancing task sensitivity with reliability for multimodal language assessments. J Neurosurg. 2021 May 28:1-8. doi: 10.3171/2020.10.JNS202947. Online ahead of print.
PMID: 34049284
Weyer-Jamora C, Brie MS, Luks TL, Smith EM, Braunstein SE, Villanueva-Meyer JE, Bracci PM, Chang S, Hervey-Jumper SL, Taylor JW. Cognitive impact of lower-grade gliomas and strategies for rehabilitation. Neurooncol Pract. 2020 Nov 4;8(2):117-128. doi: 10.1093/nop/npaa072. eCollection 2021 Apr. PMID: 33898046 
Weyer-Jamora C, Brie MS, Luks TL, Smith EM, Hervey-Jumper SL, Taylor JW. Postacute Cognitive Rehabilitation for Adult Brain Tumor Patients. Neurosurgery. 2021 Feb 15:nyaa552. doi: 10.1093/neuros/nyaa552. Online ahead of print. PMID: 33586764
Related Program
This program provides adult survivors with the necessary support and clinical care to address remaining neurocognitive limitations. A team of specialists at UCSF will assess the survivor's needs and devise an individualized plan to help improve any language, motor, or cognitive impairments caused by the brain tumor.