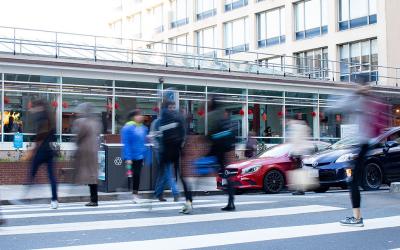 The Study of Non Oncological Factors Impacting Brain Tumor Patient Survival
Much of oncology is based on molecular classifications of disease which have marked influence on cell proliferation and responses to oncological therapies. Brain tumors however do not only pose an oncological challenge but also neurological challenges due to their ability to infiltrative into functional regions. Neurological consequences of this disease impacts how patients are able to complete cancer treatments and interact with the healthcare system.  Neurological and functional limitations are not the only factors impacting survival, as there are numerous other social determinants of health affecting our patients. Our laboratory has set out to understand how functional limitations and socioeconomic status impacts treatment and outcome.
Related Publication
Chukwueke UN, Vera E, Acquaye A, Hervey-Jumper SL, Odia Y, Klesse LJ, Dunbar E, Sharma A, Fonkem E, Thomas AA, Werbowetski-Ogilvie TE, Camelo-Piragua S, Gatson NTN, de la Fuente MI, Armstrong TS, Porter AB, Jackson S. SNO 2020 diversity survey: defining demographics, racial biases, career success metrics and a path forward for the field of neuro-oncology. Neuro Oncol. 2021 Nov 2;23(11):1845-1858. doi: 10.1093/neuonc/noab172. PMID: 34302487; PMCID: PMC8563326.
Porter AB, Chukwueke UN, Mammoser AG, Friday B, Hervey-Jumper S. Delivering Equitable Care to Underserved Neuro-oncology Populations. Am Soc Clin Oncol Educ Book. 2021 Mar;41:1-9. doi: 10.1200/EDBK_320803. PMID: 33830829.
Morshed RA, Reihl SJ, Molinaro AM, Kakaizada S, Young JS, Schulte JD, Butowski N, Taylor J, Bush NA, Aghi MK, Berger MS, Chang S, Clarke J, Hervey-Jumper SL. The influence of race and socioeconomic status on therapeutic clinical trial screening and enrollment. J Neurooncol. 2020 May;148(1):131-139. doi: 10.1007/s11060-020-03503-x. Epub 2020 Apr 29. PMID: 32350780.
Nathan JK, Brezzell AL, Kim MM, Leung D, Wilkinson DA, Hervey-Jumper SL. Early initiation of chemoradiation following index craniotomy is associated with decreased survival in high-grade glioma. J Neurooncol. 2017. PMID: 28744829